Neben den veröffentlichten Audio-CDs mit Soundtracks und dem Highlight, der Musical-CD zur dazugehörigen Buffy-Episode, gibt es in auch im Buffyverse selbst Musiker.
Musiker innerhalb der Serie
Dingoes Ate My Baby
So lautet der Name der Amateur-Rockband von Daniel "Oz" Osbourne. Die Band spielte ungefähr drei Jahre regelmäßig im The Bronze in Sunnydale. Die Musik wurde in Wirklichkeit von der Band "Four Star Mary" komponiert und eingespielt. In folgenden Episoden traten sie auf:
Das Geheimnis der Mumie (Originaltitel: Inca Mummy Girl), gespielte Titel: "Fate" & "Shadows"
Der Liebeszauber (Originaltitel: Bewitched, Bothered And Bewildered), gespielte Titel: "Pain"
Die Nacht der lebenden Toten (Originaltitel: Dead Man's Party), gespielte Titel: "Nevermind", "Pain" & "Sway"
Die Qual der Wahl (Originaltitel: Homecoming), gespielte Titel: "She knows"
Außer Rand und Band (Originaltitel: Band Candy), gespielte Titel: "Violent"
Der Handschuh von Myhnegon (Originaltitel: Revelations), gespielte Titel: "Run"
Der Stein von Amara (Originaltitel: The Harsh Light of Day), gespielte Titel: "Dilate"
Keine Menschenseele (Originaltitel: Living Conditions), gespielte Titel: "Pain" (on stereo)
Die Initiative (Originaltitel: The Initiative), gespielte Titel: "Fate"
Rupert Giles
Anthony S. Head hatte als Giles mehrere kurze Gastauftritte als Musiker in der Serie. Aus kleinen privaten Musik-Sessions zusammen mit Joss Whedon, entstand die CD Music For Elevators.
What Can You Tell Me
Babies (The In-Between)
Owning My Mistakes
(Segue)
We Can Work It Out – remake of the Beatles classic; duet with Holly Palmer
Qu'est Ce Que J'ai Fait
All the Fun of the Fair – additional vocals by Amber Benson
This Town in the Rain
Talk to You
Mum's Song
Last Time – music and lyrics by Joss Whedon; additional vocals by Amber Benson
One Man's Rain
(Segue)
Change
Staring at the Sun – additional vocals (spoken) by Alyson Hannigan
End Game
Hidden track – James Marsters speaking a verse of "Owning My Mistakes"
Lorne (Angel Spin Off)
Lorne oder auch Krevlornswath ist ein Dämon des Deathwok Clan und in der Dimension Pylea geboren, einer Welt ohne Musik. 1996 landete er durch ein Portal in Los Angeles, wo er eine eigene Karaoke-Bar (das Caritas) besitzt. Ist neben Giles auch mein persönliches musikalisches Highlight. 🙂 Lorne macht einfach Spass. Leider starb der Lorne-Schauspieler Andy Hallett viel zu früh im Alter von 33 Jahren an einem Herzleiden.
Shy (Veruca)
Shy ist die Band von Veruca. Sie taucht in Staffel 4 in den Episoden "Living Conditions", "Beer Bad" und "Wild at Heart" auf. Genauso wie Oz ist sie Musikerin und eine Werwölfin. Shy's Musik wurde im Original von dem Trip Hop-Duo THC gespielt. In folgenden Episoden ist die Band "Shy" zu sehen:
Das Bier der bösen Denkungsart (Originaltitel: Beer Bad), gespielter Titel: "Overfire"
Wilde Herzen (Originaltitel: Wild at Heart), gespielte Titel:  "Dip" und "Need to Destroy"
Audio-CDs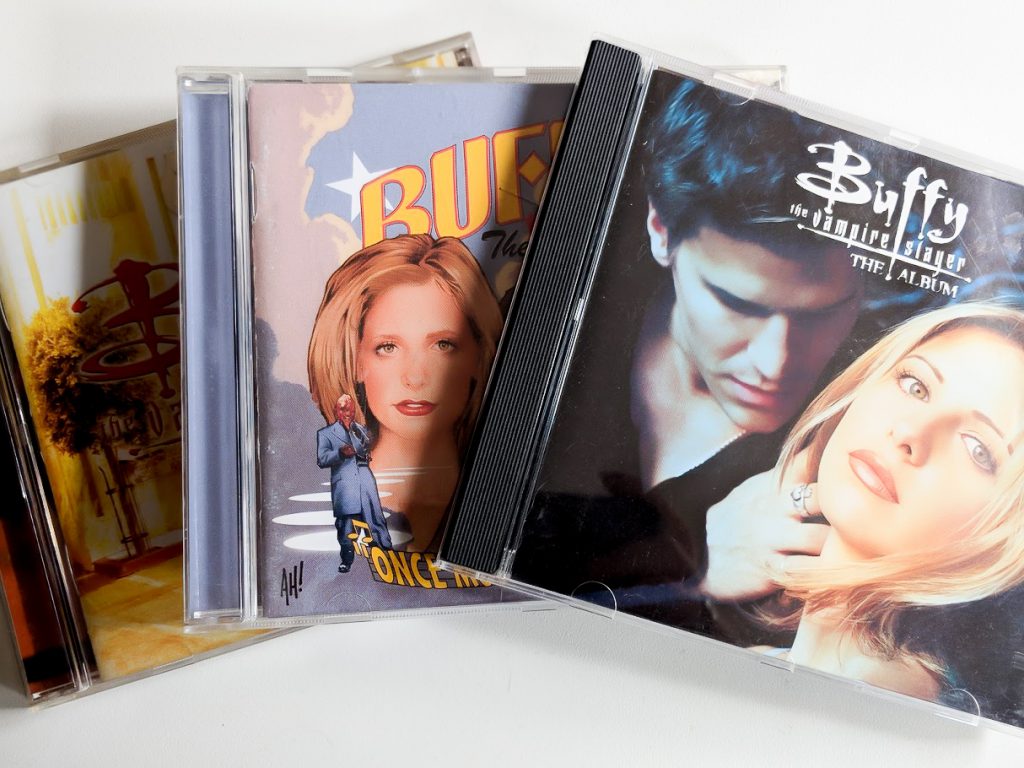 Once More, With Feeling
2002, Christophe Beck, Joss Whedon
Soundtrack zur gleichnamigen Musical-Folge aus Staffel 6.
Overture/Going Through the Motions
I've Got a Theory/Bunnies/If We're Together
The Mustard
Under Your Spell
I'll Never Tell
The Parking Ticket
Rest In Peace
Dawn's Lament
Dawn's Ballet
What You Feel
Standing
Under Your Spell / Standing (Reprise)
Walk Through the Fire
Something to Sing About
What You Feel (Reprise)
Where Do We Go From Here?
Coda
End Credits (Broom Dance/Grr Argh)
Main Title
Suite from "Restless
Suite from "Hush"
Sacrifice (from "The Gift")
Something to Sing About (demo)
Buffy the Vampire Slayer – Soundtrack
1999, Christophe Beck
Nerf Herder – Buffy The Vampire Slayer Theme
Guided By Voices – Teenage FBI
Garbage – Temptation Waits
Velvet Chain – Strong
Hepburn – I Quit
Furslide – Over my Head
Bif Naked – Lucky
Black Lab – Keep Myself Awake
K's Choice – Virgin State of Mind
Superfine – Already Met You
Face To Face – The Devil You Know
Kim Ferron – Nothing But You
Alison Krauss & Union Station – It Doesn4t Matter
The Sunday4s – Wild Horses
Four Star Mary – Pain
Splendid – Charge
Rasputina – Transylvanian Concubine
Christophe Beck – Close Your Eyes (Buffy/Angel Love Theme)
Buffy the Vampire Slayer – Radio Sunnydale
2003, Various Artists
US-Version
The Breeders – "Buffy Main Title Theme"
Joey Ramone – "Stop Thinking About It"
The Dandy Warhols – "Bohemian Like You"
Nikka Costa – "Everybody Got Their Something"
dēvics – "Key"
Lunatic Calm – "Sound of the Revolution"
Dashboard Prophets – "Ballad for Dead Friends"
Angie Hart – "Blue"
Aimee Mann – "Pavlov's Bell"
Blur – "There's No Other Way"
Sarah McLachlan – "Prayer of Saint Francis"
Robert Duncan – "The Final Fight" (original score)
UK- und lateinamerikanische Version
The Breeders – "Buffy Main Title Theme"
The Dandy Warhols – "Bohemian Like You"
Nikka Costa – "Everybody Got Their Something"
Christophe Beck – "Dead Guys with Bombs"
dēvics – "Key"
Lunatic Calm – "Sound of the Revolution"
Dashboard Prophets – "Ballad for Dead Friends"
Angie Hart – "Blue"
Aimee Mann – "Pavlov's Bell"
Alison Krauss – "That Kind of Love"
Aberdeen – "Sink or Float"
Patty Medina – "Still Life"
Laika – "Black Cat Bone"
Man of the Year – "Just as Nice"
Melanie Doane – "I Can't Take My Eyes off You"
Fonda – "The Sun Keeps Shining on Me"
Halo Friendlies – "Run Away"
Emiliana Torrini – "Summerbreeze"
Cibo Matto – "Sugar Water"
Robert Duncan – "The Final Fight" (Original Score)
Nerf Herder – "Buffy the Vampire Slayer Theme"
Angel – Live Fast, Die Never
2005, Robert J. Various & Krall
Angel Main Theme The Sanctuary Extended Remix performed by Darling Violetta
Start The Apocalypse
The End Of The World
Massive Assault
Home
Hero featuring vocals by Elin Carlson
Judgment & Jousting
The Birth of Angelus  featuring vocals by Elin Carlson
Rebellion
The Trials for Darla
Dreaming of Darla
Untouched / Darlas Fire
Darlas Sacrifice
Welcome To PYLEA
Through The Looking Glass
Castle Attack
Cordy Meets Fred
Princess Cordelia
Farewell Cordelia
Im Game by Christophe Beck
Touched  performed by Vast
LA Song performed by Christian Kane
Lady Marmalade performed by Andy Hallett
Its Not Easy Being Green performed by Andy Hallett,
A Place Called Home performed by Kim Richey